william boyle
08:39 06 Apr 17
I tried to fix my own problem at opening my accidentally locked car. – My key was lost so I can't open it. I tried to open it on my own, but I realize that I can't fix it by myself. So I called D&A 24/7 Key & Locksmith. The technician arrived promptly and fixed the issue. In just a few minutes he unlocked my car. They also made a new key for my car with duplicates, which was really great and gave a reasonable price on it. I will definitely call them again if I needed their service.
Asher Ford
11:16 06 Feb 17
I was terrified I got locked out my new car and I tried to unlocked but it's hard, I couldn't do it by myself so I called immediately a service to resolve this issue. I'm so glad that I found D&A 24/7 Locksmith online and called them immediately. I asked him to come early as possible and came on time. He took approx. 20 minutes to unlock my car and replace the keys. Jacob has gone above and beyond to make sure that I was happy and satisfied with his service. I really got what I asked for, in a great price. Would definitely recommend and use them again if needed.
Melissa W
09:32 23 Mar 17
The technician arrived based on the agreed time! He Re-keyed 2 locks and it was perfectly done. He was courteous and made sure the locks worked before he left. Big thanks!
Maak Sherwood
10:19 26 Dec 16
Helped me out in a pinch last minute with no problems. Showed up late in the day by my request, gave a very reasonable quote, got the work done. What great service. Very lucky I found him on Google Maps !
Victoria Edmonds
08:38 11 May 17
If you accidentally locked out of your car. I would definitely recommend you D&A 24/7 Locksmith. I immediately call this to help me open my car. The person that I've talked to over the phone was Jacob. He was very friendly and polite; promise that he will go to my home right away to fix the issue. He showed up right on time. About 20 minutes later I had a car key and the remote. He really took care of everything that I needed. Was very quick, and very professional. Best experience ever, I would definitely recommend him.
Carlton Rogers
20:55 24 May 17
Good service. Got all the locks in the house changed. Thank you for taking the time to answer all of my questions I really appreciate it.
Barbara Hemley
02:51 06 Jun 17
I was so happy that I called this company. The lock on my door was broken. I called them and came out quickly. It was fixed and ten times durable than the previous lock. Very polite, kind, and professional. I won't call anybody because I know you're there.
Bob S S.
05:16 04 Jul 17
Such a great experience! Had two failed attempts at getting keys made elsewhere. It was recommended to me that I try D&A 24/7 Locksmiths and I'm so glad I did. Not only were they able to cut a key that worked from my copy but they lubricated all the lock mechanisms in my car as well. Above and beyond service, educational and friendly.
Elvis Lopez
07:03 03 Jul 17
D&A company is the best 24 hour locksmith company. Itamar came to my locked out apartment at 3 A.M with no hesitation, quickly & friendly. Good price as well. Definitely would use again if needed (although i hope not).
Maurice Balentine
03:34 16 Dec 17
D&A 247 locksmiths is the best in the DC area. i used them once when i needed to install locks in my new home. The tech was very nice and polite, gave me a good price and was pleasant to deal with overall. And i used them again when I got locked out from my car. Again, very nice and professional, I would recommend this company 100%.
Kelly Jo Hilleshiem
03:58 30 Nov 17
Itamar the locksmith was excellent with the service tonight! He made sure that i was able to get into my apartment safely. After a long day at work, he was very quick at changing the locks. He also assured that he would make sure that i had a spare key as well. Would definitely recommend him to anyone!!
Melissa Freeman
17:12 22 Oct 17
I was locked out of my apartment today (a Sunday) and called three companies to come get me in. Only d&a picked up immediately and was able to send someone to meet me. Itamar met me promptly and was very communicative about his arrival. He was professional and quickly succeeded in opening both my locks without doing any damage to them and provided a fair price. I was extremely grateful for this service and would highly recommend!
Rolando Ramos
00:56 01 Dec 17
Itamar came and helped me for no charge. Very sweet guy! I have been locked out for a long time and he came by being extremely considerate and understanding. He deserves a raise or something to be willing to help me out for no charge! Thank you so much Itamar! Merry Christmas!
brooke shifman
17:43 30 Oct 17
My husband and I were in DC on vacation. We're originally from PA. We were locked out of our car, so I contacted D&A locksmith. David the technician responded right away and was at my location within a half an hour. No damage done to my car and he was done quickly. My husband and I recommend only using D&A and we will only contact them from now on.
Estelle Chamlee
01:12 20 Dec 17
I called D&A 24/7 because I locked myself out on my home and the service tech arrived after 10 mins. And fixed the issue right away. It took only 15 minutes to get the job done. Very Professional and prompt. If I'm ever having key or lock issues or need anything that requires me to call them, I'll definitely call this service.
Miya Sharpe
00:17 05 Dec 17
Itamar was awesome! Super fast and responsive. Took the squeak out of my door and everything. I definitely recommend them.
Stacey Corby
05:23 18 Jan 18
A very nice gentleman by the name of Itamar showed up promptly when the lock broke getting into my house. He made the repair very quickly and the price was very fair. I would HIGHLY recommend D&A locksmith. He was incredibly courteous, polite and knew exactly how to fix the problem immediately to get me out of the twelve degree weather. Very, very very satisfied customer!!!
Nathan Groce
20:26 14 Jan 18
Itamar did an amazing job helping me out last minute. I lost the keys to my house and he was there within 30 minutes of me calling him. I'm so appreciative!
Cassandra Moore
04:00 16 Jan 18
Itamar was amazing. Got here soooo quick and was so helpful and understand in the process, can't recommend more highly. THANK YOU!
Joel Jowers
02:10 04 Feb 18
Work was performed quickly and professionally. When I had an issue with the installation, the technician happily returned and fixed the problem, and I received a follow up call from the proprietor ensuring I was satisfied. Job well done.
Joan Currier
12:55 21 Feb 18
We were in need of a locksmith to do a rekey of our newly rented condo unit. After searching online saw D&A 24/7 Locksmith I didn't hesitate to call them and asked for a quote and in no time they made us some new keys for our condo unit. They were great and it was a hassle free work from them. Highly recommended Locksmith.
Samir Balile
14:48 06 Mar 18
Amazing service.! Speedy, reliable, and professional. Itamar was efficient and addressed my very stressful situation! Thank you! I highly recommend 🙂
L O'Neill
14:00 12 Mar 18
Great place - they sent out help quickly when I called. The locksmith (Itamar) was fast, helpful, and gave great advice on safety. Will use them again next time.
Sparano Mooney Architecture
05:25 04 Apr 18
I had a fabulous experience with D&A 24/7 Locksmiths. They were on time and very courteous. They came to re-key my locks on my new house and they did a great job. The price was good too. I would highly recommend them to anyone who are looking for locksmith in Washington DC.
Pell Indiana
02:48 02 May 18
I lost my car keys and called them for assistance. And the service tech came out within the hour and was able to create new keys for me with duplicates. They really provided me excellent service, the service tech they sent to me was very knowledgeable and expert! Highly recommended!
Walter Southwell
01:57 05 Jun 18
I'm so glad that I found someone reliable company that will help me regarding my key and lock issue. They arrived as soon as possible to change the door locks and make key copies. Price was very good, very reasonable. Thanks, D&A 24/7 Locksmith. Super prompt, good cost and good service.
Eddie Minor
12:06 11 Jun 18
The service was fantastic. Itamar G. provided great customer service and went above and beyond to help us with our issue. We are thankful he helped us! We will use their services again and highly recommend them.
Gibbes Hannah
03:48 14 Jun 18
I needed a re-key service in a rush and a concern friend recommends me D&A 24/7 and called them right away and after a few minutes the service tech arrived on our home and work very fast. – He finished the job in just less than 15 mins. If you need a fast, efficient and professional service, I'll recommend D&A 24/7.
Joey Abrams
21:58 24 Jun 18
Incredible customer service. Great prices. We had a sliding glass door with a proprietary locking mechanism. Within 1 day they found a replacement and installed it. Very kind and courteous interaction.
Whitelegge Lucas
03:25 09 Aug 18
I left my key inside my house and the service of D&A 24/7 came here after 20 minutes with all the tools needed for unlocking. Very good service, so professional tech, he fixed in a few minutes and also made me a duplicate key for me. Price was very cheaper compared to others. They really save me. I highly recommend them.
Haugh Scarlett
05:28 03 Jul 18
I needed a new key cut so I immediately call this service and they respond to my call, and had a technician within an hour. Every interaction I have with them has been professional and honest, and the pricing has been quoted was fair and competitive. They really helped me out in a jam. We don't hesitate to call or to go with them if we are in need of help regarding lock and key issues.
Esther Bendis
16:25 10 Jul 18
Fastest service I ever got from a locksmith. Best prices in the Washington, DC area and very friendly. I highly recommend this company will use them again for sure.
Ronda McCall
06:08 06 Sep 18
Itamar & DJ were prompt polite and capable. The lock was high security and with their experience they were able to remove and replace the lock. After replacing the lock they cleaned the area and provided us with information regarding the new lock. The service was superb and we highly recommend them for all lockout needs.
Aneshia Ray
01:20 29 Aug 18
I called for an initial estimate. The technician arrived quickly and worked diligently to replace the lock and get us into the home quickly. The business contacted us directly to address any service or pricing issues.
Skinner Hugo
02:57 11 Sep 18
Super prompt service that I've ever encountered. The service tech was so fast made an extra key for me it took less than estimated 10 mins. I'd definitely be comfortable calling them, if their is necessary lock work done!
Daniel Greenberg
17:16 22 Sep 18
Locksmith was great and solved my issue very quickly. His name was Donald. I was locked inside of my condo on the 3rd floor an was nervous that I would have to jump out a window. He helped me open the door an installed a new lock. Donald was super friendly an professional. An the price was not bad at all. I highly recommend this company an Donald as your tech. Thanks a ton
Yuan Tang
15:53 13 Oct 18
D&A was great. Donald was extremely helpful and accommodating. I had called on Friday and asked him to come help me rekey some locks. However, I had a last minute scheduling conflict so I had to reschedule. He was really friendly and agreed to come meet me the very next day to complete the job. Excellent work and I would definitely recommend.
Wanda Donald
06:55 13 Nov 18
When I needed to changed locks, I called this company as they were located nearby. The person who visited was friendly, courteous and did a great work. Changed a 3 locks for me in a jiffy, without hitches. I am very happy to use them again in the future.
Lisa French
17:33 10 Dec 18
Donald was incredibly prompt getting back with me. When I told him it was not an emergency we set an appointment. He and Isaac were prompt, efficient and very polite. Will definitely recommend in the future.
Elizabeth Graves
03:02 10 Jan 19
I had a serious safety concern and called D&A 24/7 Locksmith. Was able to get an appointment same day. Came within an hour and quickly replaced four locks. Great manner and just straight forward quality work. Pretty much the locksmith you have been searching for!
D. Latravia Stanley
21:58 15 Dec 18
Professional and arrived in a timely manner. Truly thankful for their relentless effort, and getting the job done as efficiently as possible! I highly recommend their service. Thanks again Donald!
Grace Fomani
23:38 26 Dec 18
Itamar was AMAZING!!!!! He not only drove Out of his way to come help me out but he was very understanding. I was stuck in the cold and he literally did everything he could to help me out. I definitely recommend his services!
Alexis D.
06:03 01 Feb 19
What a lifesaver! Called during lunch break. I badly needed a copy of my car key and it only took them 15 minutes! What an amazing find. Very quick and professional.
Bertha Martinez
02:18 02 Mar 19
Great reliable locksmith! Quick to respond. All it took was only 30 minutes to arrive and have my car door unlocked.
Kiran Bhatt
04:18 30 Mar 19
Donald was great, came within ten minutes after midnight on a Friday and got me back in my apartment right away. Highly recommended!
Todd Claudio
02:57 17 Apr 19
I used D&A 24/7 Locksmith to re-key all locks at my home. Itamar came out the same day. He was friendly, knowledgeable and assess the issues with my doors and replaced all my locks, as well as correct them within the same day. Very pleased, would highly recommend.
Niido Apt333
22:09 17 May 19
Our guest were locked out and you guys came through for us. I really appreciate you guys giving us options for the lock, also informing us that the lock was broken and offering to fix it was greatly appreciated. The fact that it was 1am didn't even seem to deter your abilities, nor inhibit you from doing great work. Thanks again.Niido Brothers.
Hannah Huhn
05:30 22 May 19
I needed a locksmith asap and these guys came to the rescue. Very grateful and satisfied by their fast and helpful service! I recommend for anyone looking for professional, easy and timely service.
Aliya Wong
16:00 01 May 19
My technician, Donald, was great! Very fast and friendly! However, I did not have my phone (it was locked in the house) and the company doesn't seem to have a way to accommodate that so I had to call my husband (on a borrowed phone) and have him call...
Flossie Blackbear
08:59 18 Jun 19
The customer service representative that answered the call was very professional and polite; they answered my inquiry regarding a set of replacement locks for my house. The service person came to our home was so professional. I really commend his professionalism and enthusiasm in the way he handled the whole situation. Overall, a great experience with this service. I'll definitely recommend them.
Nicholas Jackson
20:19 07 Jun 19
Excellent service. Quick installation. Hastle free. No one had a better price. Extremely satisfied and will recommend! Thank you for your great work and professionalism.
Marta Lionello
08:22 08 Jul 19
They are the best locksmith service I've ever used. They did great work, reasonable in cost, and arrived when we are expected to arrive. They replace my lock and create a new key for my door.
Maryalice Wolfe
23:37 08 Jun 19
Very efficient. Fair price for the area. The technician who came was friendly and very quick, Donald did a great job!
Next Reviews
Write a review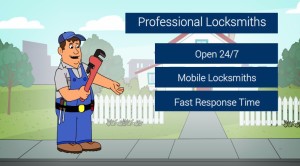 At D&A 24/7 Locksmiths, all of your locksmith needs will be taken care off. We provide commercial, residential, automotive and emergency locksmith services in the Washington DC and surrounding areas.
To request service or get a FREE quote on our locksmith services, please fill out the contact form on your right and one our professional locksmith techs will respond within a few minutes. Or simply give us a call to schedule an appointment at (202) 524-1040.
Commercial Locksmith Services – Complete lock and key solutions for commercial properties in Washington DC.
Master keying; single user key for everything
Rekeying, in case you lost or misplaced it somewhere
Upgrading existing locks and key systems
Customized access control. In case there are more than one user
High security keys for most important rooms in your business (documents, main office)
Restricted keys with high end security
Safe servicing and re-installation, if/ when required
Residential Locksmith Services – Our professional locksmiths will take care of locks in your home. So you can feel safe for yourself and your loved ones.
Installing new locks. Just moved in? You may want to replace locks in the entire house
Lock picking in case you locked out yourself out of your home
Lock repair. Repair locks that are just not working properly
Lock change. Change locks in the entire house or just one bad one
Rekeying so you always have a spare set of keys
Automotive Locksmith Services – Locked yourself out or lost your car keys? D&A 24/7 Locksmiths got you covered.
Emergency auto lock out locksmith service
Replacement of keys in case of a brake or loss
Repairing and reinstallation of lock systems
Making spare set of keys for the convenience of having a spare set of keys
Replacing the keys stuck during ignition
Emergency Locksmith Services – Whatever your lock emergency is, D&A 24/7 Locksmiths is here to help.
We work 24 hour per say, 7 days per week and 365 days per year
We will work on your home, business or car
Fast response time
Call a Professional Locksmith in DC Right NOW at (202) 524-1040